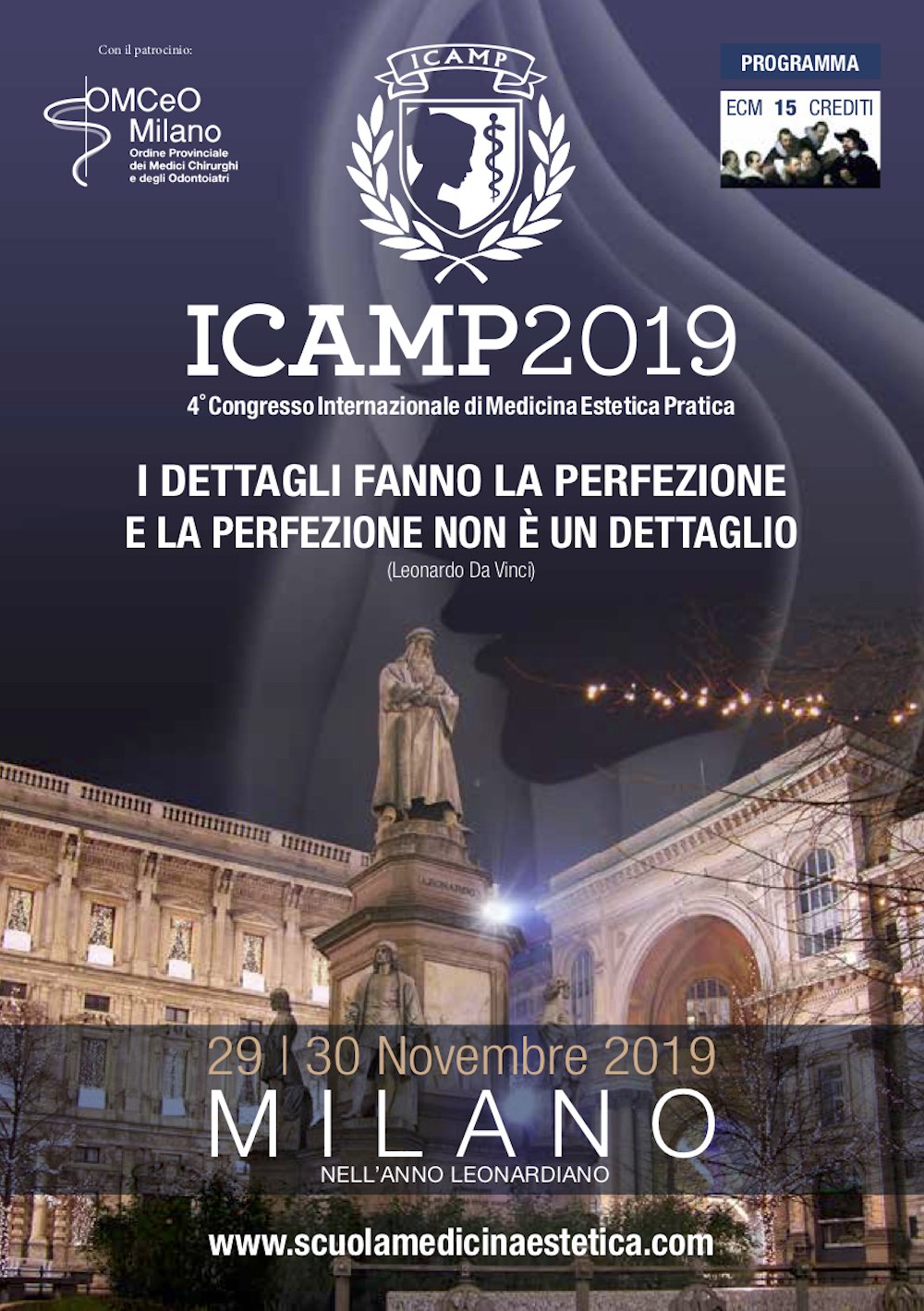 ICAMP 2019
4° CONGRESSO INTERNAZIONALE DI MEDICINA ESTETICA PRATICA
I DETTAGLI FANNO LA PERFEZIONE E LA PERFEZIONE NON È UN DETTAGLIO
(Leonardo Da Vinci)
---
Dear colleagues,
Welcome again this year to the annual edition of ICAMP Congress, the first Congress of Practical Aesthetic Medicine in Italy, which has now become one of the "must do" of this industry.
For the 2019 edition, back to Milan, home of our College, after the great appreciation recorded last year in Rome, we have confirmed the innovative formula. The program is divided into challenges, speaker panel and Lectio Magistralis.
The challenges represent the opportunity to stimulates a confrontation between the best experts on specific topics and compare their different solutions and techniques. Whether theoretical or practical, the challenges will alternate in an engaging and highly formative set up. You will be able to follow the practical challenges in live streaming from the surgeries of the brand new ICAMP College venue.
The speaker panels are animated by experts selected among the best in the world, who will share with the audience their knowledge and experience alongside important information for our clinical practice.
This year an exclusive world premiere: ICAMP is honored to give the stage to the four major experts who have deeply innovated the approach to the skin health and care. Philippe Deprez, Edward Krulig, Romulo Mene and Zein Obagi will create a session not to be missed.
Join us at our Congress for an experience of high educational value. We look forward to seeing you at ICAMP Congress 2019!
---
FACULTY | ICAMP 2019
Presidente
Maria Albini
Presidenti Onorari
Michele Carruba
Torello Lotti
Comitato Scientifico
Maria Albini
Bianca Diffidenti
Milvia Di Gioia
Simona Varì
Abdelmalek M.
Albini M.
Alì C.
Alia F.
Amore R.
Araco A.
Astolfi G.
Belfiore E.
Bellia G.
Belmontesi M.
Biagiotti E.
Bonan P.
Bonomi S.
Buzzaccarini G.
Capodacqua D.
Carruba M.
Ceccarelli M.
Chiapatti V.
Clatici V.
Colussi D.
Conese M.
Corbo A.
Costa E.
Davlouros S.
Deprez P.
Deriu F.
Di Folco A.
Di Gioia M.
Diffidenti B.
Diaspro A.
Facchini R.
Fasola E.
Ferrarelli G.
Ferrari E.
Galceran F.
Galli C.
Galliano E.
Grazioli A.
Guarino E.
Guerrini S.
Guida A.
Heravi A.
Khanna B.
Krulig E.
Lentsch P.
Leonzi M.
Leporati M.
Leva F.
Lira Luce F.
Lotti T.
Lucati T.
Mannelli P.
Manzo G.
Manzoni V.
Marchesi C.
Marchetti M.
Marchisio E.
Marlino S.
Masolini P.
Melfa F.
Mene R.
Merlo M. C.
MIGLIARDI R.
Mugnaini F.
Musio F.
Muti G.
Norman R.
Noviello S.
Obagi Z.
Pastore A.
Prandelli S.
Renzi M.
Rocchi C.
Rovatti P.
Serafini M.
Tateo A.
Toschi S.
Trono D.
Tulipano G.
Tunesi L.
Turchi A.
Varì S.
Varlaro V.
Vercesi F.
Veronesi A.
Vourtsis S.
---
VENERDÌ 29 NOVEMBRE – NH Milano 2 Congress Centre
AULA TINTORETTO | ICAMP 2019
09.00-09.30
Sfida 1:
La cornice del volto: collo e terzo inferiore
MODERATORE: Milvia Di Gioia
RELATORI: P.P. Rovatti, D. Trono
09.30-10.00
LECTIO MAGISTRALIS:
Il confine tra il laser ed i peeling chimici
RELATORE: R. Mene
10.00-11.00
Sfida Pratica 1:
Riposizionamento dei tessuti del volto
MODERATORE: Tiziano Lucati
RELATORI: E. Costa, F. Leva
11.00-12.00
Inaugurazione e lectio magistralis:
Gli antiossidanti naturali: supplementi utili,
inutili o dannosi? RELATORE: T. Lotti
Psicodermatologia: cosa è importante per il
Medico estetico. RELATORE: R. Norman
12.00-13.00
Sfida Pratica 2: Fronte, sopracciglia e
tempie: come gestirle
MODERATORE: Maria Albini
RELATORI: M. Renzi, F. Vercesi
13.00-13.30
Sfida 2:
Smagliature e cicatrici
MODERATORE: Corrado Alì
RELATORI: M. Leonzi, G. Manzo
13.30-14.00
WORKSHOP IBSA
14.00-15.00
Sfida Pratica 3: Il lipstick in una siringa
MODERATORE: Milvia Di Gioia
RELATORI: G. Astolfi, S. Marlino
15.00-15.30
LECTIO MAGISTRALIS: La bioristrutturazione
dei tessuti: lo stato dell'arte
MODERATORE: Simona Varì
RELATORE: V. Varlaro
15.30-16.00
Sfida 4: Rimodellare il profilo:
la sfida non chirurgica
MODERATORE: Simona Varì
RELATORI: A. Veronesi, S. Vourtsis
---
AULA BOTTICELLI | ICAMP 2019
09.00-10.00
Tavola Rotonda 1: Cellulite: ultime novità,
importanti conferme
MODERATORE: Piercarlo Masolini
RELATORI: A. Araco, M. Ceccarelli,
S. Guerrini, V. Varlaro
10.00-11.00
Tavola Rotonda 2: Grasso,
rimozione non invasiva
MODERATORE: Antonio Grazioli
RELATORI: R. Amore, P. Bonan, S. Toschi
11.30-12.00
WORKSHOP VIVASEI
12.00-13.30
Tavola Rotonda 3: Iperpigmentazioni: peeling,
plasma, cosmesi
MODERATORE: Tiziano Lucati
RELATORI: M. Belmontesi, V. Clatici,
A. Corbo, P. Deprez, V. Manzoni
14.00-15.00
Tavola Rotonda 4: Adiposità sottomentoniera:
aghi, fili, laser, tecnologie
MODERATORE: Bianca Diffidenti
RELATORI: R. Amore, S. Bonomi,
E. Ferrari, F. Melfa
15.00-16.00
Tavola Rotonda 5: Ginecologia estetica
MODERATORE: Antonio Grazioli
RELATORI: E. Fasola, F. Galceran, P. Lentsch
16.30-18.30
EVENTO SPECIALE ESCLUSIVA MONDIALE:
I fantastici quattro della pelle
MODERATORI: M. Albini, M. Di Gioia,
B. Diffidenti, S. Varì
RELATORI: P. Deprez, E. Krulig,
R. Mene, Z. Obagi
---
FRIDAY 29 NOVEMBER – NH Milano 2 Congress Centre
AULA TINTORETTO | ICAMP 2019
09.00-09.30
Challenge N.1:
The face frame: neck and lower third
CHAIRMAN: Milvia Di Gioia
SPEAKERS: P.P. Rovatti, D. Trono
09.30-10.00
LECTIO MAGISTRALIS:
The boundary between laser and chemical peels
SPEAKER: R. Mene
10.00-11.00
Practical Challenge N.1:
Facial tissue positioning
CHAIRMAN: Tiziano Lucati
SPEAKERS: E. Costa, F. Leva
11.00-12.00
Opening Ceremony and Lectio Magistralis:
The Natural antioxidants: useful, useless or
danger supplements? CHAIRMAN: T. Lotti
Psychodermatology: what's relevant
for aesthetic doctors CHAIRMAN: R. Norman
12.00-13.00
Practical Challenge N. 2
Forehead, eyebrow and temple: how to handle?
CHAIRMAN: Maria Albini
SPEAKERS: M. Renzi, F. Vercesi
13.00-13.30
Challenge N. 2:
Stretchmarks and scars
CHAIRMAN: Corrado Alì
SPEAKERS: M. Leonzi, G. Manzo
13.30-14.00
WORKSHOP IBSA
14.00-15.00
Practical Challenge N. 3: The lipstick in a syringe
CHAIRMAN: Milvia Di Gioia
SPEAKERS: G. Astolfi, S. Marlino
15.00-15.30
LECTIO MAGISTRALIS: The soft tissues
Re-structuring: the state of the Art
CHAIRMAN: Simona Varì
RELATORE: V. Varlaro
15.30-16.00
Challenge N. 4:
Profile remodeling: a non-surgical challenge
CHAIRMAN: Simona Varì
SPEAKERS: A. Veronesi, S. Vourtsis
---
AULA BOTTICELLI | ICAMP 2019
09.00-10.00
Expert panel N.1: Cellulites: latest news,
important confirmations
CHAIRMAN: Piercarlo Masolini
SPEAKERS: A. Araco, M. Ceccarelli,
S. Guerrini, V. Varlaro
10.00-11.00
Expert panel N. 2
Fat: non-invasive removal
CHAIRMAN: Antonio Grazioli
SPEAKERS: R. Amore, P. Bonan, S. Toschi
11.30-12.00
WORKSHOP VIVASEI
12.00-13.30
Expert panel N. 3: Hyperpigmentation: skin
peel, plasma, cosmeceuticals
CHAIRMAN: Tiziano Lucati
SPEAKERS: M. Belmontesi, V. Clatici,
A. Corbo, P. Deprez, V. Manzoni
14.00-15.00
Expert panel N. 4: Submental fat: needles,
threads, laser, technologies
CHAIRMAN: Bianca Diffidenti
SPEAKERS: R. Amore, S. Bonomi,
E. Ferrari, F. Melfa
15.00-16.00
Expert panel N. 5: Aesthetic Gynecology
CHAIRMAN: Antonio Grazioli
SPEAKERS: E. Fasola, F. Galceran, P. Lentsch
16.30-18.30
SPECIAL EVENT WORLD EXCLUSIVE
PREMIERE: The skin fab four
CHAIRMEN: M. Albini, M. Di Gioia,
B. Diffidenti, S. Varì
SPEAKERS: P. Deprez, E. Krulig,
R. Mene, Z. Obagi
---
SABATO 30 NOVEMBRE – NH Milano 2 Congress Centre
AULA TINTORETTO | ICAMP 2019
09.00-09.30
Sfida 4: Tossina botulinica:
i trucchi degli esperti
MODERATORE: Michele Serafini
RELATORI: M. Abdelmalek, G. Ferrarelli
09.30-10.30
Sfida Pratica 4: Occhi: solchi e cavità da
trattare
MODERATORE: Corrado Alì
RELATORI: C. Galli, G. Muti
10.30-11.15
Facial Artistry by Prof. Bob Khanna
MODERATORI: M. Albini, M. Di Gioia,
B. Diffidenti, S. Varì
RELATORE: B. Khanna
11.45-12.30
Sfida 5: Lipofilling vs seffi
MODERATORE: Piercarlo Masolini
RELATORI: M. Ceccarelli, A. Diaspro, E. Guarino
12.30-13.30
Sfida Pratica 5: Il viso: approccio
tridimensionale
MODERATORE: Ezio Costa
RELATORI: B. Khanna, M. Leporati
13.30-14.00
WORKSHOP GP DERMAL
14.00-14.30
Sfida 6: Migliorare il posizionamento del filler
per una maggiore efficacia
MODERATORE: Bianca Diffidenti
RELATORI: MIGLIARDI R., P.P. Rovatti
14.30-15.00
Sfida 7: Rimodellare il profilo:
la sfida non chirurgica
MODERATORE: Simona Varì
RELATORI: A. Veronesi, S. Vourtsis
15.00-16.00
Sfida Pratica 6: La profiloplastica:
mento e jawline
MODERATORI: Maria Cristina Merlo,
Cristina Rocchi
RELATORI: F. Alia, G. Astolfi
---
AULA BOTTICELLI | ICAMP 2019
09.00-10.00
Tavola Rotonda 6: Memorial Giorgio Fippi
MODERATORE: Paola Mannelli
RELATORI: A. Grazioli, A. Heravi,
P. Masolini, A. Turchi
10.00-10.30
WORKSHOP DB COMPANY
10.30-11.15
Sfida 10: Benesssere dei capelli:
soluzioni a confronto
MODERATORE: Peter Lentsch
RELATORI: E. Belfiore, T. Lotti, A. Pastore
11.45-13.30
Tavola Rotonda 7: Nutrizione
MODERATORE: Michele Carruba
RELATORI: R. Facchini, P. Mannelli, G. Manzo,
M. Marchetti
14.00-15.30
Tavola Rotonda 8: Laser e Tecnologie:
si può fare di meglio?
MODERATORI: Bianca Diffidenti, Mario Leonzi
RELATORI: P. Bonan, V. Clatici, S. Davlouros,
E. Ferrari, E. Marchisio, F. Mugnaini
15.30-16.30
WORKSHOP MERZ
16.30-17.30
Tavola Rotonda 9: Zona perioculare e
occhiaie: soluzioni ad un problema difficile.
L'opinione degli esperti
MODERATORE: Maria Albini
RELATORI: F. Alia, M. Ceccarelli, A. Corbo,
P. Masolini
17.30-18.30
EVENTO CAMIG: Cogliere un dettaglio è
l'intelligenza di comprendere l'insieme. Il
dettaglio in Medicina Estetica
MODERATORE: Paola Mannelli
RELATORI: E. Biagiotti, V. Chiapatti,
M. Conese, S. Davlouros, A. Di Folco
18.30
CERIMONIA DI CHIUSURA
---
AULA TINTORETTO | ICAMP 2019
16.00-16.30
Sfida 8: Complicanze: le verità non dette
MODERATORI: Maria Albini, Antonio Guida
RELATORI: M. Abdelmalek, A. Corbo,
V. Varlaro
16.30-17.00
Sfida 9: Medicina estetica e marketing
MODERATORE: Simona Varì
RELATORI: A. Araco, F. Melfa
17.00-17.30
Gli allievi Icamp presentano…
MODERATORE: Simona Varì
RELATORI: G. Buzzaccarini, F. Deriu,
F. Musio, S. Prandelli
17.30-18.00
Consegna Diplomi Icamp – Premiazione
migliori docenti A.A. 2018-2019 – Consegna
Premio "G. Fippi" 2019
M. Albini, M. Di Gioia, B. Diffidenti, S. Varì
18.00-18.30
Gli allievi Icamp presentano…
MODERATORE: Bianca Diffidenti
RELATORI: D. Capodacqua, D. Colussi,
F. Liraluce, C. Marchesi
18.30
CERIMONIA DI CHIUSURA
---
SATURDAY 30 NOVEMBER – NH Milano 2 Congress Centre
AULA TINTORETTO | ICAMP 2019
09.00-09.30
Challenge N. 4: Botulinum Toxin:
the tricks of the experts
CHAIRMAN: Michele Serafini
SPEAKERS: M. Abdelmalek, G. Ferrarelli
09.30-10.30
Practical challenge N. 4:
Eyes: grooves and cavities to be treated
CHAIRMAN: Corrado Alì
SPEAKERS: C. Galli, G. Muti
10.30-11.15
Facial Artistry by Prof. Bob Khanna
CHAIRMEN: M. Albini, M. Di Gioia,
B. Diffidenti, S. Varì
SPEAKER: B. Khanna
11.45-12.30
Challenge N. 5: Lipofilling vs seffi
CHAIRMAN: Piercarlo Masolini
SPEAKERS: M. Ceccarelli, A. Diaspro, E. Guarino
12.30-13.30
Practical challenge N. 5:
The face: a 3D approach
CHAIRMAN: Ezio Costa
SPEAKERS: B. Khanna, M. Leporati
13.30-14.00
WORKSHOP GP DERMAL
14.00-14.30
Challenge N. 6: How to improve the filler
placement for a better efficacy.
CHAIRMAN: Bianca Diffidenti
SPEAKERS: MIGLIARDI R., P.P. Rovatti
14.30-15.00
Challenge N. 7:
Profile remodeling: a non-surgical challenge
CHAIRMAN: Simona Varì
SPEAKERS: A. Veronesi, S. Vourtsis
15.00-16.00
Practical challenge N. 6: The profiloplasty:
chin and jawline
CHAIRMEN: Maria Cristina Merlo,
Cristina Rocchi
SPEAKERS: F. Alia, G. Astolfi
---
AULA BOTTICELLI | ICAMP 2019
09.00-10.00
Expert Panel N. 6: Giorgio Fippi Memorial
CHAIRMAN: Paola Mannelli
SPEAKERS: A. Grazioli, A. Heravi,
P. Masolini, A. Turchi
10.00-10.30
WORKSHOP DB COMPANY
10.30-11.15
Challenge 10: Hair wellbeing:
solutions compared
CHAIRMAN: Peter Lentsch
SPEAKERS: E. Belfiore, T. Lotti, A. Pastore
11.45-13.30
Expert Panel N. 7: Nutrition
CHAIRMAN: Michele Carruba
SPEAKERS: R. Facchini, P. Mannelli, G.
Manzo, M. Marchetti
14.00-15.30
Expert Panel N. 8: Laser and Technologies:
can we still improve?
CHAIRMEN: Bianca Diffidenti, Mario Leonzi
SPEAKERS: P. Bonan, V. Clatici, S. Davlouros,
E. Ferrari, E. Marchisio, F. Mugnaini
15.30-16.30
WORKSHOP MERZ
16.30-17.30
Expert Panel N. 9: Periocular area and
Dark circle: possible solutions to a difficult
problem. The expert's opinion.
CHAIRMAN: Maria Albini
SPEAKERS: F. Alia, M. Ceccarelli, A. Corbo,
P. Masolini
17.30-18.30
CAMIG Event: Picking a detail is the ability
to understand the whole. The importance of
details in Aesthetic Medicine.
CHAIRMAN: Paola Mannelli
SPEAKERS: E. Biagiotti, V. Chiapatti,
M. Conese, S. Davlouros, A. Di Folco
18.30
CLOSING CEREMONY
---
AULA TINTORETTO | ICAMP 2019
16.00-16.30
Challenge 8: Complications: the untold truth
CHAIRMEN: Maria Albini, Antonio Guida
SPEAKERS: M. Abdelmalek, A. Corbo,
V. Varlaro
16.30-17.00
Challenge N. 9: Aesthetic medicine
and marketing
CHAIRMAN: Simona Varì
SPEAKERS: A. Araco, F. Melfa
17.00-17.30
ICAMP students presents…
CHAIRMAN: Simona Varì
SPEAKERS: G. Buzzaccarini, F. Deriu,
F. Musio, S. Prandelli
17.30-18.00
Certificate ceremony, Awarding best teachers
2018-2019, Prizegiving "G. Fippi" 2019
M. Albini, M. Di Gioia, B. Diffidenti, S. Varì
18.00-18.30
ICAMP students presents…
CHAIRMAN: Bianca Diffidenti
SPEAKERS: D. Capodacqua, D. Colussi,
F. Liraluce, C. Marchesi
18.30
CLOSING CEREMONY
---
WORKSHOP SPONSOR | ICAMP 2019
11.30
12.00
VENERDÌ 29 AULA BOTTICELLI
VIVASEI SRL
CARBOSSITERAPIA: PRINCIPI E ATTUALITA'
Relatore: Vincenzo Varlaro
13.30
14.00
VENERDÌ 29 AULA TINTORETTO
IBSA FARMACEUTICI ITALIA SNC
APPROCCIO OLISTICO NEL RIPRISTINO
DELLE VOLUMETRIE DEL VOLTO
Relatore: Antonello Tateo
Moderatore: Gilberto Bellia
10.00
10.30
SABATO 30 AULA BOTTICELLI
DB COMPANY SRL
ACTUAL TREATMENTS OF MELASMA
Relatore: Philippe Deprez
13.30
14.00
SABATO 30 AULA TINTORETTO
GP DERMAL SOLUTION SRL
FILLER ELLANSE': MEET THE EXPERT
Relatore: Franco Vercesi
15.30
16.30
SABATO 30 AULA BOTTICELLI
MERZ PHARMA ITALIA SRL
IL NATURAL LOOK CON BELOTERO:
LIPS E REVIVE PER LE LABBRA E LA
QUALITÀDELLA PELLE
Relatori: Lucio Tunesi, Sergio Noviello